Covid-19 Information - updated 2/15/2021
Expanded Reopening as of 2/15/2021
Good News!
After opening to up to 10 guests last June and July, Camp Dewan has expanded to allow for 40 or fewer guests per day. We remain dedicated to providing a safe and happy place for all of you to enjoy again as we boldly go forward into our new future.
With the number of Covid-19 cases continuing to go down in Wisconsin, we expect to raise the guest limit soon.
Our safety processes and procedures are firmly in place as we welcome guests to the camp. Our mission at Camp Dewan is to provide for our guests as safe of an environment as possible as we reopen.
Jorja Strehlow
Camp Director
When you stay at Camp Dewan, you own all 55 acres of Camp Dewan.
It's the only recreation location where your group, and only your group, enjoys exclusive use of all camp facilities.
The camp is a private facility, which is not open to the public.
If you would like to TOUR THE CAMP prior to making a reservation,
please send an email to Jorja (jorja@campdewan.com) and we would be happy to show you around.
Perfect for....
Scout Groups
Family and Class Reunions
Little League Tournaments
Group Camping
Corporate Events
Retreats
Meetings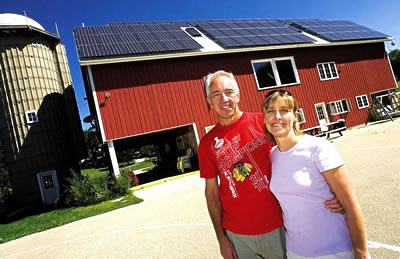 INDOORS OR OUT, CAMP DEWAN IS THE SPOT
Farmstead plays host to groups large and small
Spring Prairie Township-
Every once in a while, John Dewan hears a hint of hesitation in the voice of someone calling him to ask about staying at Camp Dewan.
"They'll say things like, 'I don't like to camp,' or 'I don't want to sleep in a barn,'"
But once visitors see the 55-acre wooded retreat, he said, they're often surprised to find the barn contains a fully equipped kitchen, a dining hall, a loft, and enough space to offer indoor half-court basketball. The camping facilities include a four-room lodge with a stone fireplace and two rustic five-room cabins that can sleep up to 20 people.