Winter at Camp Dewan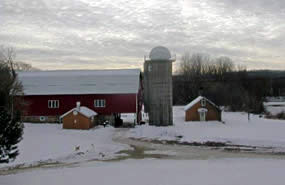 Everyone knows Camp Dewan is great fun in the summer, but the heated barn and lodge make it a great winter getaway as well.
Enjoy the winter wonderland of Camp Dewan. Build a snowman, sled on the hill, or take a walk on the hiking trails. Go downhill skiing at Alpine, or cross- country skiing at Kettle Moraine. Then warm up in the heated barn and settle in for a fun movie or an all-night movie marathon on the state-of-the-art Home Theater System.
Take in Winterfest in Lake Geneva and visit the Ice Castles!
Or you can enjoy a lively game of hoops, ping pong, foosball, or take batting practice in the indoor batting cage.
When you are done with all the action, snuggle up in front of a roaring fire in the field stone fireplace in the Deer Run Lodge. Savor a cup of hot chocolate, good friends and good conversation, or maybe curl up and lose yourself in a good book.
The possibilities are wonderful!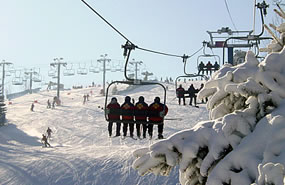 Think Snow! The perfect ski weekend is Camp Dewan plus Alpine Valley. Ski during the day at nearby Alpine Valley and enjoy the Camp Dewan home theater or basketball court at night. Or ski from 3pm to 11pm on Alpine's lighted slopes.
Even better yet: Get discounted ski tickets and equipment rental for groups of 20 or more at Alpine plus a free lift ticket for the group leader and complimentary lessons for beginners. Click here for www.alpinevalleyresort.com.
Winter fun at Camp Dewan -- you can't beat it!
Make your reservation request by using the online calendar or call Jorja at 262-308-2727.
Remember, when you stay at Camp Dewan, you own Camp Dewan. It's the only recreation location where your group, and only your group, enjoys exclusive use of all camp facilities.